Sometimes the simplest solutions hold the deepest impact. Taking a deep breath may seem cliché, but its power to calm the storm within is nothing short of remarkable. Embrace the tranquility that each inhale and exhale brings.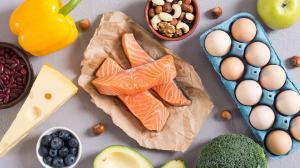 Nourishing your body and mind with B-vitamin-rich foods – a pathway to vitality and balance. Explore nature's bounty and embrace the benefits these foods bring to your well-being.
Dr. Akoury's message rings loud and clear – managing stress is paramount for vibrant health. Witness her unwavering passion as she champions your wellness journey, advocating for the crucial role of stress management in preserving your vitality.
Embodying Transformation and Harmony: The AWAREmed logo symbolizes our holistic approach to wellness, uniting mind, body, and spirit for optimal well-being. Join us on a transformative journey towards lasting health.
Discover Holistic Solutions and Practical Tips from Dr. Akoury to Tackle Anxiety on the Spot
Calmness is the cradle of power."
— Josiah Gilbert Holland
JOHNSON CITY, TENNESSEE, UNITED STATES, August 8, 2023/EINPresswire.com/ — Dr. Dalal Akoury, a distinguished medical expert and the visionary behind AWAREMed Health and Wellness Resource Center, is sharing her personal toolkit of 5-minute anxiety remedies. In a world that seldom slows down, Dr. Akoury's holistic insights offer immediate solace and lasting strategies.
Confronting Anxiety in a Hectic World
In a society often plagued by anxiety, Dr. Akoury recognizes the urgency of delivering swift and effective solutions. Her practical tips serve as a lifeline for individuals seeking rapid relief from the grip of anxiety.
Prevention through Restful Sleep: The Foundation of Serenity
Dr. Akoury underscores the pivotal role of sleep in curbing anxiety. With an emphasis on prevention, she advocates establishing proper sleep habits as the bedrock of mental and emotional well-being. Adequate sleep bolsters the body's resilience against the onslaught of anxiety. (https://www.sleepfoundation.org/mental-health/anxiety-and-sleep)
Harnessing the Power of Breath: An Age-Old Technique
While deep breathing might sound like a cliché, Dr. Akoury unveils its profound impact as an in-the-moment antidote to anxiety. Her go-to technique involves standing still, inhaling deeply, holding the breath briefly, exhaling fully, and repeating. This simple yet transformative practice reconnects mind and body, offering immediate calm amidst chaos. (https://www.health.harvard.edu/mind-and-mood/relaxation-techniques-breath-control-helps-quell-errant-stress-response)
Fueling the Mind and Soul: GABA and B Vitamins
In the quest to conquer anxiety swiftly, Dr. Akoury introduces the concept of mindful nourishment. Snacking on foods rich in GABA and B vitamins can significantly influence neurotransmitter balance and emotional stability. (http://tiny.cc/feq9vz) Examples of GABA-rich foods include fermented foods like kimchi and kefir, while B-vitamin-rich foods encompass leafy greens, whole grains, and lean meats.
Mindful Distraction: Shifting Focus, Finding Relief
Dr. Akoury's wisdom extends to the power of mindful distraction. By consciously diverting attention from stressors and engaging in alternative activities, individuals can effectively disrupt the grip of anxiety. (https://www.mentalhelp.net/self-help/self-soothing-techniques-distraction/) This shift in focus offers a renewed sense of relief and control.
About Dr. Dalal Akoury
With over four decades of experience in integrative medicine, Dr. Dalal Akoury is a respected authority in her field. As the founder of AWAREMed Health and Wellness Resource Center, she champions holistic wellness through personalized care, natural therapies, and comprehensive lifestyle guidance.
For media inquiries or to schedule an interview with Dr. Dalal Akoury, please contact:
Shannon Head

Social Media Manager

[email protected]
www.awaremed.com

(423) 430-6170
Dalal Akoury
AWAREmed Health and Wellness Resource Center
+1 843-957-1196
email us here
Visit us on social media:
Facebook
LinkedIn
Instagram
YouTube
TikTok
NATURAL STRATEGIES FOR COPING WITH ANXIETY | Dr. Akoury from AWAREmed


Originally published at https://www.einpresswire.com/article/648872821/dr-dalal-akoury-empowers-with-immediate-anxiety-relief-unveiling-5-minute-strategies-for-lasting-calm
The post Unveiling 5-Minute Strategies for Lasting Calm first appeared on Beauty Ring Magazine.
Beauty - Beauty Ring Magazine originally published at Beauty - Beauty Ring Magazine