Lashfood Eyelash Enhancing Serum Application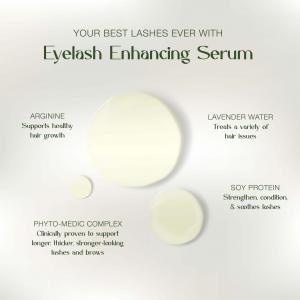 Lashfood Eyelash Enhancing Serum Ingredients
Introducing Lashfood's Eyelash Enhancing Serum 2.5-month supply for only $49.
RIVERSIDE, CALIFORNIA, UNITED STATES, April 11, 2023/EINPresswire.com/ — This "clean" lash serum is a high-quality option available in the market that has received positive feedback from customers.
The Eyelash Enhancing Serum offered is formulated with a patented Phyto-Medic complex, which is designed to nourish lashes over time. It is a natural, clean, safe, and effective product that is available to purchase for $49.
This clean lash serum delivers longer-and fuller-looking eyelashes in as little as 4 weeks. What's more, over 99% of the ingredients used in the formula are of natural origin – and over a quarter are sourced from organic farming. The formula is paraben, phthalate, and sulfate free, and has been thoroughly tested by dermatologists. 
In polling customers, 100% of participants reported an impressive increase in eyelash length when using the clean lash serum. A further 85% reported a visible improvement in eyelash fullness and texture, while 0 participants noticed any irritation when using the product. 
The Eyelash Enhancing Serum has a Phyto-Medic Complex that is a vegan and cruelty-free option for those interested in clean credentials. See results, not side effects: fuller-looking lashes without the irritation from traditional lash serum products.
What Sets LASHFOOD Apart: Our ECOCERT Credentials 
When creating the industry-leading lash and brow enhancers, we strive to utilize high-quality materials throughout every step of the process. – from skin- and hair-friendly ingredients to environmentally-sustainable packaging. 
The approach to sustainability means a mindful approach to production processes, and only choose materials for the packaging that are ECOCERT-compliant. This means that: 
* 70% of the fibers come from renewable or recyclable materials, and are produced in an environmentally respectful manufacturing environment  

* 75% of the products are produced and assembled locally, avoiding the heavy carbon footprint of overseas transportation 

* 100% of the packaging boxes are made from FSC- and Rainforest Alliance-certified paper, and printed with soy ink 
All of the ingredients are sustainably harvested and carefully evaluated for their environmental impact.
The shipping materials are sourced from No Issue, a sustainable packaging company that's part of the Eco-Packaging Alliance.  
The Clean Ingredients Behind the ECOCERT-Certified Lash Growth Serum  
When it comes to the ingredients used in the products, the standards could not be higher. The goal is to develop effective, powerful products that don't compromise on their ingredient quality. That means using clean, natural remedies that are proven to get results. 
As a sustainable beauty shopper, it is important to know exactly what goes into products, so Lashfood is transparent about every ingredient used. The key ingredients that go into LASHFOOD's lash-enhancing serum are the patented Phyto-Medic complex, arginine, lavender water, and soy protein: 
* Phyto-Medic complex is a patented, revolutionary formula of herbal extracts that is clinically proven to support longer- and thicker-looking lashes and brows. 

* Arginine is an essential amino acid that acts as a strengthening agent for lashes and brows. It creates a barrier that helps to protect hairs from breakage and damage, while maintaining a healthy moisture balance that keeps eyelashes soft and smooth. 

* Lavender water is rich in vitamins and antioxidants and has been used in aromatherapy treatments for generations. It has many uses and it works to stimulate the skin and promote healthy hair growth. 

* Soy protein is an effective natural conditioning agent that benefits the overall health and appearance of brows and lashes.  
There are no ingredients like parabens, sulfates, phthalates and artificial fragrances to attempt to boost the performance of the products. The best results for anyone's beauty and the planet are achieved by using all-natural ingredients and a sustainable supply chain. 
Complete the Look with More Clean Beauty Products 
Alongside the industry-leading brow and lash serums, LASHFOOD offers a select range of plant-based cruelty-free makeup. 
The Conditioning Drama Mascara offers unparalleled volume and length with a proprietary formula infused with nourishing peptides that conditions and strengthens lashes from the roots. The mascara imparts high pigment color, while transforming frail and brittle lashes to thicker, longer lashes on a cellular level. The perfectly shaped, extra-large bristle brush also helps define and separate lashes as formula is applied.
The Conditioning Collagen Lash Primer contains lash extending, thickening microfibers to instantly stretch and extend the look of lashes, and collagen to boost volume.
The formula works as a daytime nourishing lash mask conditioning lashes with nano-peptide complex to promote lash vitality. Lash base also features micro-thickening natural lash fibers to instantly achieve the look of false lashes and maximize the result of any mascara. The large, soft wand flawlessly combs and separates lashes and simultaneously improves the look of natural lashes with each stroke.
Clean, Sustainable Beauty from LASHFOOD 
LASHFOOD is committed to natural beauty that's kind to nature. With over 40 five-star reviews from clean beauty lovers, the eyelash-enhancing serum is a must-have in anyone's beauty routine. Check out the before & after evidence from the 16-week study for even further proof! 
From eyelashes to brows, LASHFOOD has it all covered. Check out the  full range of products,  or read about the story behind the ingredients to find out more about the natural remedies used.
If there is any interest to carry LASHFOOD products, see contact page of website. 
Catherine O'Daniel
JB Cosmetics
+1 415-309-8350
email us here
Visit us on social media:
Facebook
LinkedIn
Instagram
YouTube
TikTok
Other
LASHFOOD Diaries | Zoe's Eyelash Enhancing Serum Story | Before and After


Originally published at https://www.einpresswire.com/article/626738364/new-clean-travel-size-lash-serum-promises-longer-fuller-lashes-on-the-go
The post New Clean Travel Size Lash Serum Promises Longer, Fuller Lashes on the Go first appeared on Beauty Ring Magazine.
Beauty - Beauty Ring Magazine originally published at Beauty - Beauty Ring Magazine