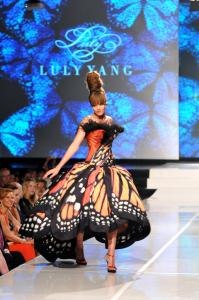 Monarch Butterfly gown at Monarch's Tale fashion show
Butterfly Effect gown and fashion show
Celebrate the beauty and wonder of the natural world at Luly Yang's "Made in Nature" Couture event, benefitting Seattle Children's.
SEATTLE, WASHINGTON, USA, August 21, 2023/EINPresswire.com/ — In a stunning celebration of creativity, innovation, and style, Luly Yang Couture is excited to announce its 20th Anniversary Fashion Celebration, Made in Nature. This milestone occasion marks two decades of shaping the fashion industry with iconic designs. The much-anticipated event is set to take place at 6:30pm on Saturday, September 30, 2023 at Fremont Studios in Seattle, with 100% of ticket proceeds benefiting Seattle Children's.
Two Decades of Fashion Excellence:
Since its inception, Luly Yang Couture has consistently pushed the boundaries of fashion, redefining trends and setting new standards of sophistication. Over the last 20 years, the brand has garnered a reputation for its unique blend of timeless and contemporary aesthetics, appealing to a diverse clientele of art and fashion connoisseurs and trendsetters.
A Night of Art and Innovation:
The 20th Anniversary Fashion Show promises to be a grand affair, showcasing Yang's most iconic vintage designs in a gallery exhibit during the cocktail reception, followed by her latest Couture collection Made In Nature.
Made in Nature will be an artistic expression of the harmonious coexistence of the elements: Ocean, Earth, and Sky. This fashion collection is a testament to the complex interplay of the world around us, showcasing how fashion can be a bridge between human creativity and the natural world's intricate designs.
Attendees can also look forward to a special runway presentation featuring patients from Seattle Children's modeling their very own Luly Yang Couture created just for them. This celebration is generously supported by sponsorship partners Bank of America and Alaska Airlines.
We look forward to welcoming you to this milestone occasion of style and creativity.
About Luly Yang:
Luly Yang is a couture fashion and product designer who seeks to elevate the human experience through innovative designs. This mission flows through a dynamic portfolio of multifaceted operations that include Luly Yang Couture, her award-winning fashion house that specializes in couture red carpet evening wear, bridal, and bespoke suiting; the Luly Yang Design Group that designs and manufactures custom branded corporate uniforms; and specialty lines featuring limited edition ready-to-wear and accessories.
Vivian Hsu Nelson
Luly Yang Couture
+1 206-623-8200
email us here
Visit us on social media:
Facebook
Instagram
YouTube


Originally published at https://www.einpresswire.com/article/651151265/luly-yang-couture-presents-a-20th-anniversary-fashion-show-made-in-nature
The post Luly Yang Couture Presents a 20th Anniversary Fashion Show "Made in Nature" first appeared on Beauty Ring Magazine.
Beauty - Beauty Ring Magazine originally published at Beauty - Beauty Ring Magazine