Snapify's all-in-one AI-powered solution shortens typical event photography workflows by as much as 90% and is on a mission to shake up a $39B industry that is long overdue for disruption.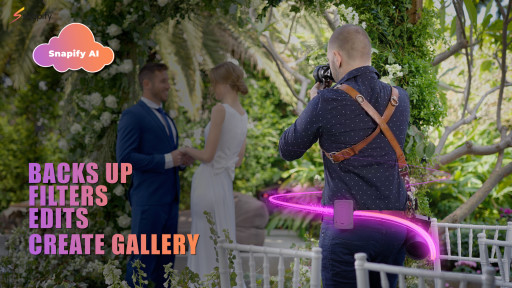 Snapify Is Redefining The Photoshoot Experience
Snapify's all-in-one AI-powered solution is decreasing the post-processing workflow for event photographers by as much as 90%
NEW CITY, N.Y., April 19, 2023 (Newswire.com) - Snapfiy announces the launch of its community equity investment round on Wefunder. The funds raised will be used to scale the company's product development, operations, marketing, and sales. Snapify's first-of-its-kind, end-to-end AI solution empowers professional event photographers by cutting their post-shoot editing workflow by as much as 90%, enabling them to deliver high-quality photos to their clients much faster than current wait times, which can typically last weeks.
Snapify's suite of photography tools includes several components, including a small, dedicated cellular-based device that attaches to any professional camera and backs up photos to the cloud in real time, an SD card that connects the camera to the rest of the suite, an app which is used to process and manage the photos on automatically-created web galleries that can also be shared with clients, and a sophisticated AI-powered editing algorithm that applies studio-quality culling and editing in near real time.
"I couldn't be more excited to bring innovation to an industry that is long overdue for advancement," said Ran Rahav, Co-founder and CEO of Snapify. "Snapify will transform the event photography experience with technology that significantly boosts efficiency both during and post-shoot, reducing excessive wait times for clients who can receive their professionally edited photos much faster, and freeing up a considerable amount of time for photographers to pursue more work opportunities or simply enjoy the more free time between jobs."
The global AI market is valued at over $136 billion and is expected to grow by at least 120% year-over-year. With $1.5 million already invested in their patent-pending AI technology, the response from Snapify's users has been extremely promising. "The ability to back up, cull, edit and deliver photos to clients up to 90% faster gives event photographers a competitive edge in an era where clients demand both speed and uncompromising quality from service providers. Photographers who stick to outdated, time-consuming processes will eventually lose out to those who are embracing AI-powered tools that boost both productivity and quality simultaneously," said Shai Zohar, founder and CTO.
Snapify's all-in-one, end-to-end AI solution includes real-time storage, editing, and photo-sharing features that no other solution is offering, placing the company in a unique position to disrupt the $39B global photographic services industry, which is expected to be valued at $52 billion by 2026, growing at a CAGR of 6%.
"By the end of 2023, we expect to have around 200 paying customers, generating $1 million in revenue (ARR). Investing in Snapify today - before we experience exponential growth - presents a unique opportunity for equity crowdfunding investors to join us on our journey to redefine the future of professional event photography," says Rahav.
The Snapify community investment round is available on Wefunder and is open to both accredited and non-accredited investors, with a minimum investment of $250. The opportunity is available for a limited time only.
To learn more about Snapify and its mission, as well as how to invest, please visit https://wefunder.com/snapify/.
Contact Information:
Ran Rahav
Co-Founder, CEO
[email protected]
+1 646-814-6388
Original Source:
Snapify Set on Redefining Event Photography Industry, Launches Equity Investment Round for First-of-Its-Kind AI-Powered Solution
Entertainment - NOOR Magazine originally published at Entertainment - NOOR Magazine