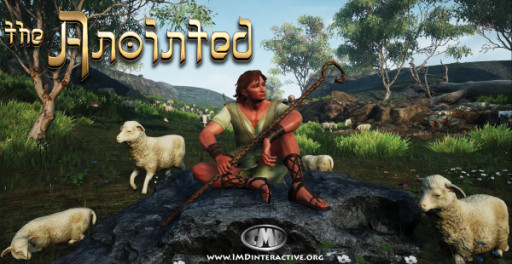 The Anointed
Video Game Image of David in the Shepherd's Field
BIRMINGHAM, Ala., September 26, 2023 (Newswire.com) - Alabama-based non-profit video game publisher Intelligent Media & Design (IMD Interactive) recently announced that its free-to-play Bible video game The Anointed: David Saves Keilah (DSK) recently hit a major milestone in development.
The Anointed franchise is now one step closer to beta with it's latest development update on Steam. The update includes basic training and shepherd levels, enhanced combat, stealth, cinematics, tutorials and platforming.
DSK is a smaller version of The Anointed: Heart of David (HOD), which follows the life of biblical hero David from shepherd to king of Judah. The Anointed: HOD references multiple books in the Bible, primarily beginning in 1 Samuel 16 and ending in 2 Samuel 2.
IMD also announced that in the last 12 months, with over 2.2 million impressions, DSK has been installed on computers in over 130 countries with a very small marketing budget.
IMD Interactive President Drayton Cosby stated that the latest Steam update is a big leap for IMD and puts The Anointed in position to move away from proof of concept (POC) to the minimum viable product (MVP) stage of its launch phase.
"With this update, we are now ready to test our small group curriculum with churches," said Cosby. "This is an exciting time for those that have been praying to reach Generation Z and youth leaders searching for innovative methods to bring more students to God's Word."
IMD Interactive Chief Operating Officer (COO) and Head of Interactive Carlo Romano stated that IMD works diligently to shift expectations, which have historically been low for Christian media and video games.
"We have accomplished much with a fraction of the resources that secular and popular games have," said Romano. "Our hearts drive us, and support is building, as people begin to recognize our games are more than just entertainment."
IMD Interactive Chief Technology Officer (CTO) Matt Clark said there is no more interactive and engaging way to tell a story than video games, and he thinks that the best stories for every generation are the ones in the Bible.
"We are striving to bring the ancient world to life for our players in a fun and entertaining way, so players get a feel for what David and his time was really like," said Clark. "We hope this leads players to be curious for what else is in the Bible, especially the stories about the son of David, King Jesus."
To access the The Anointed: DSK Steam store page, players must be 13 years of age or older. For parents who are considering allowing younger children to play, please visit IMD's YouTube videos and FAQs for more information.
You may donate or subscribe to keep up with the latest information from IMD or learn how you can help at imdinteractive.org.
For system requirements and where to download "David Saves Keilah," visit The Anointed: DSK.
Contact Information:
Drayton Cosby
President
[email protected]
205-319-1487
Original Source:
Non-Profit Ministry Hits Major Milestone in Bible Video Game Development
Entertainment - NOOR Magazine originally published at Entertainment - NOOR Magazine