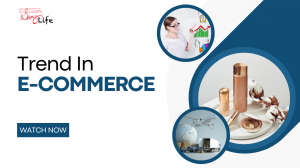 Launching the dynamic duo of software integration and market reach within the personal consumable products branding business model that enhances reach across multiple channels
Introducing the dynamic duo of software integration and market reach within the personal consumable branding process "The Consumable System"
Innovation distinguishes between a leader and a follower."
— Steve Jobs
CHEYENNE, WY, UNITED STATES, August 24, 2023/EINPresswire.com/ — Get Ahead Of The Trend In E-commerce. Discover How To Sell On Multiple Channels. Introducing the training webinar "The Consumable System". Uncover the dynamic duo of software integration and market reach within the personal consumable branding services "The Consumable System". SaazLife is excited to present an exclusive opportunity to delve into the realms of software integration and expanding market reach.
In the ever-changing world of e-commerce, it's more important than ever to have a finger on the pulse of the latest trends. Staying ahead of the curve can mean the difference between being a successful online seller and being left in the dust.
One of the biggest trends in e-commerce right now is selling on multiple channels. This means having a presence on not just one, but multiple online platforms. This can be a great way to reach a wider audience and boost your sales.
But how do you go about selling on multiple channels? And how do you make sure you're doing it effectively?
The answer lies in software integration. Having a good e-commerce platform that integrates with multiple channels is essential for selling on multiple channels successfully.
SaazLife is excited to offer an exclusive opportunity to learn about software integration and expanding market reach. This dynamic duo is the key to success in the personal consumable products branding service and training "The Consumable System". This webinar will cover everything from marketing and logistics.
Don't miss out on this chance to get ahead of the trend and learn how to sell on multiple channels. In addition to that also have access to private labeling PLUS dropshipping for consumables products. With this strategy and training, individuals can confidently manage consumable product brands across multiple online marketplaces, with data visualizations along with an understanding of market trends and access to growth metrics.
Register now and discover the power of software integration and market reach. Learn how to integrate with most online marketplaces. The Consumable System method stands as a testament to e-commerce enlightenment. With step-by-step guidance, dropshipping mastery, marketing finesse, and fulfillment ease this process creates the platform for e-commerce enlightenment and growth.
ANISH CHATTERJEA
Saazlife LLC
+1 604-312-4109
[email protected]
Visit us on social media:
YouTube
Unveiling "The Consumable System" launching this strategy and product
Originally published at https://www.einpresswire.com/article/651465902/introducing-the-new-personal-branding-training-the-consumable-system
The post Introducing The New Personal Branding Training – The Consumable System first appeared on Beauty Ring Magazine.
Beauty - Beauty Ring Magazine originally published at Beauty - Beauty Ring Magazine