MagnaCaddy.com is thrilled to announce the launch of its groundbreaking innovation for golf enthusiasts - its cutting-edge phone holder designed to elevate the golfing experience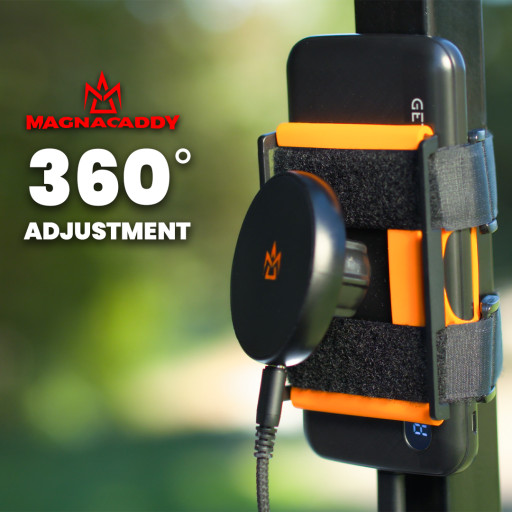 Magnacaddy Phone Mount and Charger
All in one Phone Mount and Charger. Made for Golfers.
SAN JOSE, Calif., August 8, 2023 (Newswire.com) - In a bid to simplify the way golfers carry and make use of their mobile phones when they are playing golf, MagnaCaddy.com has introduced a brilliant innovation. The company has launched a phone holder that can be attached to golf carts to make it easy for golfers to seamlessly make use of their phones and carry them along when they hit the course.
The MagnaCaddy phone holder is meticulously engineered to provide a secure and convenient solution for keeping phones accessible during gameplay, ensuring golfers stay connected without compromising their focus or performance. With its introduction, golfers can now take their game to a whole new level with MagnaCaddy's phone holder as they use their phones to access dedicated golf GPS, utilize score-tracking apps, access social media, and take photographs while enjoying the beautiful game.
"With the launch of MagnaCaddy, it is the beginning of an exciting period for golfers as it promises to be the game-changer that redefines how golfers interact with their phones on the green," said Scott Kolberg, CEO of MagnaCaddy. "Our team's dedication to innovation and functionality has resulted in a truly exceptional product that seamlessly integrates into the golfing experience. It is a phone holder that will prove to be a handy golf accessory for all who take part in the game."
The MagnaCaddy phone holder boasts an array of remarkable features including a robust strapping system with silicone sleeves, velcro straps, metal plate, and ABS mount that makes it easy to firmly strap the phone holder to the golf cart. With its wireless charger and USB C cable, users can charge their phones easily while it is on the phone holder. Thanks to its portable design, MagnaCaddy can be carried anywhere and attached to anything on the golf course.
As a testament to their commitment to excellence, MagnaCaddy undergoes rigorous testing to ensure durability, weather resistance, and effortless usability, ensuring it withstands the demands of regular golfing sessions. The device is Magsafe compatible which means it can provide fast and efficient charging for iPhone devices.
With MagnaCaddy in tow, golfers can focus on honing their skills and enjoying the game to the fullest, while staying connected and informed throughout their rounds. This sleek and ergonomic phone holder offers both convenience and peace of mind for players of all skill levels.
The developers will be organizing a Kickstarter campaign on August 8th, 2023 to complete the phone holder's production and begin marketing it. For more information on the progress with MagnaCaddy and to support its production, please visit: https://www.kickstarter.com/projects/980791623/magnacaddy?ref=36nt2o
Contact Information:
Michael Kolberg
Founder
[email protected]
925-337-6294
Original Source:
Introducing MagnaCaddy, a Revolutionary Phone Holder for Golfers on the Green That Provides an Enhanced Golfing Experience
The post Introducing MagnaCaddy, a Revolutionary Phone Holder for Golfers on the Green That Provides an Enhanced Golfing Experience first appeared on RSVTV news.
Sport - RSVTV news originally published at Sport - RSVTV news