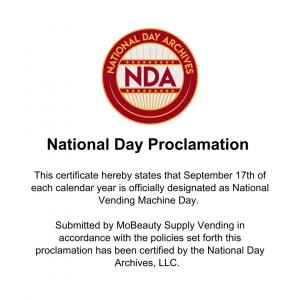 National Vending Machine Day Proclamation Certificate from National Day Archives, LLC
Support local entrepreneurs by purchasing from your favorite vending machine September 17th in honor of the newly minted National Vending Machine Day
ATLANTA, GEORGIA, USA, September 14, 2023/EINPresswire.com/ — MoBeauty Supply Vending along with the National Day Archives proclaims September 17, 2023 as the first ever National Vending Machine Day. This day was created to honor vending machines, their history, and their business owners. To celebrate this nationally proclaimed holiday people can support vending machine owners by purchasing products from their favorite vending machine on Sunday, September 17th.
When asked about the desired outcome of National Vending Machine Day Maureen Washington, CEO of MoBeauty Supply Vending stated, "I would love to see people make at least one purchase from a vending machine to celebrate!"
National Vending Machine Day was also established to help celebrate and encourage consumers to support local vending machines businesses. Maureen shares, " My hope is that this day will help people recognize that vending machine business owners come from all walks of life including single parents, families, children and senior citizens. They deserve praise for their hard work."
Through awareness and celebration of this National Holiday, Maureen hopes to further the dialogue on entrepreneurship and other financial topics such as passive income and generational wealth. This national holiday could also act as a catalyst for business owners looking to take part in the vending machine industry.
About MoBeauty Supply Vending Machines:
MoBeauty Supply Vending Machines is a black women-owned company at the forefront of innovative specialty vending machines. Business owner Maureen Washington aspires to help other entrepreneurs grow with customizable vending machines to suit any need or location. From beauty salons to universities to AirBnB's, vending machines are as versatile as the items they carry. Additionally they now offer location scouting services for vending machine owners to target high traffic locations and maximize profits. .
Summer G.
Sunshine Public Relations
mobeautysupplyvending.com
Originally published at https://www.einpresswire.com/article/655647711/celebrate-the-first-national-vending-machine-day
The post Celebrate the First National Vending Machine Day first appeared on Beauty Ring Magazine.
Beauty - Beauty Ring Magazine originally published at Beauty - Beauty Ring Magazine