Overview of the Camelo Scheduler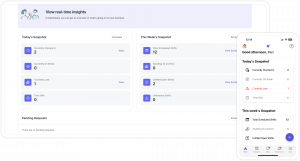 Overview of the Camelo Dashboard
Camelo's employee scheduling software, including an extensive range of tools, has supported healthcare facilities in managing employees and work hours better.
WILMINGTON, DELAWARE, US, July 31, 2023/EINPresswire.com/ — Camelo provides healthcare facilities including hospitals, clinics, home care services, private practices, and more, with advanced tools for scheduling staff, tracking hours and attendance, and communicating with staff.
Solutions for unique challenges of the healthcare industry
"Camelo understands well the unique challenges that healthcare workplaces face when handling their schedules, work hours, and work information. Healthcare facilities have a diverse range of staff with different skill sets, qualifications, preferences, and needs. Staff shortage, burnout, and retention problems are persistent. Outdated and manual scheduling processes in some workplaces make it hard to respond to changes in patient demand or staffing availability," says Brian Le, the CEO of Camelo.
To help address these challenges, Camelo has developed a suite of tools in their scheduling software for healthcare workers. Managers and schedulers can create efficient schedules for their teams based on skills, roles, patient coverage, staff preferences, overtime limits, and more. Staff can use their phones or tablets to check their schedules, clock in and out while the app calculates work hours for them, and communicates updates instantly.
"With the desktop app and the mobile app, it's easy to assign shifts while considering complex scheduling requirements. Healthcare staff can check the latest schedules, swap shifts with eligible colleagues, claim shifts they can work, submit leave requests, review their timesheets, and connect with others. They have more control over their schedule, so the person in charge of rostering has less burden while the staff members are more engaged with their work," says Brian.
Available on all devices, Camelo can turn any device into a secure digital time clock. The app automatically records worked hours, breaks, and overtime, giving accurate and reliable timesheets for payroll. It eliminates paper timecards and timesheets, giving both employees and employers the convenience to prioritize patient care.
A reliable place for healthcare teams
Camelo is committed to supporting healthcare facilities of all sizes, from small practices to large hospitals. The team aims to help workplaces save time on manual and tedious tasks so they can spend time on improving the quality of care and patient experience. They prioritize user-friendliness and timely support, providing medical workplaces with the support they need to streamline rostering processes and achieve growth.
"At Camelo, we believe that empowering healthcare workplaces with efficient scheduling solutions is the key to unlocking their true potential. Our scheduling software is not just about managing shifts or timesheets; it's about optimizing workforce performance, improving quality of care, streamlining team communication, and fostering a great environment for both healthcare staff and patients," says Brian.
About Camelo

Camelo is a comprehensive staff scheduling solution that helps healthcare workplaces simplify employee scheduling, time tracking, attendance monitoring, and team communication. Designed to meet the unique needs of healthcare facilities of all scales, Camelo frees workplaces from the burden of time-consuming administrative work, allowing them to reclaim time for what truly matters.
Brian Le
Camelo
+1 302-574-6556
[email protected]
Visit us on social media:
Facebook
Twitter
LinkedIn


Originally published at https://www.einpresswire.com/article/647273132/camelo-is-helping-healthcare-facilities-manage-staff-schedules-work-hours-and-communication
The post Camelo Is Helping Healthcare Facilities Manage Staff Schedules, Work Hours, and Communication first appeared on Beauty Ring Magazine.
Beauty - Beauty Ring Magazine originally published at Beauty - Beauty Ring Magazine