Guests at the House of Fashion Launch Event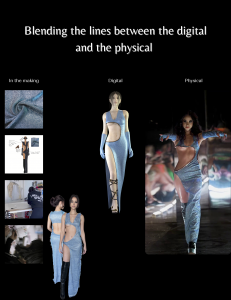 Blending Realms: seamlessly fusing physical and digital fashion
House of Fashion debuts digital collectible VIP digital pass on May 5th, providing access to exclusive drops, immersive events, & AR/VR fashion experiences.
Our digital collectible VIP pass is more than just art; it is a pass to the world of House of Fashion. Join us and be at the forefront of innovation and creativity in the fashion industry."
— LCamero
MIAMI, FLORIDA, UNITED STATES, May 3, 2023/EINPresswire.com/ — House of Fashion, the innovative fashion brand that merges fashion and technology, announces the release of its digital collectible VIP access pass mint on May 5th, 2023. The VIP pass, which is also a digital collectible, offers exclusive access to the world of House of Fashion, including limited-edition clothing drops, preferred pricing across all its brands, exclusive digital wearables, and entry into future events.
Following the successful immersive art and fashion experience launch event on April 7th, 2023, during Miami Tech Month, House of Fashion is thrilled to expand its community and offer new and unique experiences to its audience. The VIP pass is more than just a digital collectible; it provides a gateway to an immersive experience that blends AR/VR reality with fashion. During the event, 21 pieces of digital artwork showcasing fashionable women were printed on large-scale canvas paper and displayed in gallery style to showcase the beauty and uniqueness of the collection. These pieces were a testament to the House of Fashion's dedication to creativity and innovation in the fashion industry.
"We are excited to offer our audience a new and unique way to connect with our brand," said LCamero, House of Fashion's founder. "Our digital collectible VIP pass is more than just art; it is a pass to our world. It offers exclusive access to limited-edition drops, interactive AR clothing, and entry to future immersive art, fashion & tech events. With this pass, you can be a part of our community, which is at the forefront of innovation and creativity in the fashion industry."
Lisa Camero, also known as LCamero, is a Puerto Rican artist and fashion designer based in Miami. She is the founder and creator behind the House of Fashion Web3 brand, and her art has been exhibited at various events, such as Art Basel 2018. She also started her own fashion brand, LCamero Brand, in 2018, which has been featured in magazines, worn by music artists, and showcased on numerous runways.
Henry Cedeno is a well-known and accomplished marketer with a background in entertainment. He started in the music industry, working at Slip-N-Slide Records, where he led successful digital marketing campaigns for top-tier artists. He later worked as a marketing director at M3 Studios, the largest film studio in South Florida. He now leads his digital marketing agency, helping businesses improve online visibility and gain more customers. He is excited to bring his skills and expertise as a co-founder to the House of Fashion lifestyle brand.
The digital collectible collection includes 50 rare one-of-one pieces, each one unique and paying tribute to the 50 legends of fashion. These pieces bring real-life designers into the story and mythology of House of Fashion. LCamero will launch a new exclusive artwork collection on May 5th, 2023, at 12:00 PM Eastern through the digital collectible VIP pass. This is a unique opportunity for fans and collectors to get in early on the artist's latest body of work, which took months to complete. With a limited supply of only 4,000 pieces available for purchase at $50 each, it's an opportunity to own a piece of the artist's work at a fraction of the price. Notably, one of LCamero's most recent physical paintings sold for $3500 in 2022, emphasizing the value of getting in on her next collection at only a $50 price point.
The release allows people to purchase using traditional credit cards without needing a crypto wallet, with only an email required to join the world of House of Fashion. The mission of House of Fashion is to make the blockchain more accessible to everyone, and by removing the technical difficulties, more people than ever can participate in this innovative space. So join House of Fashion's world and own a piece of LCamero's exclusive artwork collection today.
House of Fashion has established itself as a new kind of creative lifestyle brand that seamlessly integrates art, fashion, and technology. The brand's versatility is evident in combining digital artwork, interactive augmented reality clothing, and physical and digital clothing collections. These distinct areas intersect to create a unique and cohesive entity. By blending art, fashion, and technology, House of Fashion creates an innovative space that captivates audiences and generates media attention. As a brand to watch, House of Fashion is poised to continue to push the boundaries of creativity and set new standards in the fashion industry.
Those interested in acquiring the digital collectible/VIP access pass should visit the website https://houseoffashion.io/ on Friday, May 5th, at 12:00 PM Eastern, where you will have availability to acquire one of these limited edition works of art. Take advantage of this exclusive opportunity to join the House of Fashion community and own a piece of LCamero's latest artwork collection.
About House of Fashion

House of Fashion is a physical + digital fashion brand & PFP collection with utility in physical & digital through phygital drops, AR & VR digital wearables, redeemable fashion items, virtual experiences, real-world & metaverse immersive events & community involvement.
Henry Cedeno
House of Fashion
+1 786-607-7367
email us here
Visit us on social media:
Facebook
Twitter
LinkedIn
Instagram
YouTube
TikTok
Other
Highlights from the House of Fashion Launch Event


Originally published at https://www.einpresswire.com/article/631209826/web3-fashion-brand-house-of-fashion-launches-digital-collectible-vip-access-pass-on-may-5th-2023
The post Web3 Fashion Brand House of Fashion Launches Digital Collectible & VIP Access Pass on May 5th, 2023 first appeared on Beauty Ring Magazine.
Beauty - Beauty Ring Magazine originally published at Beauty - Beauty Ring Magazine