Luxx Store Launches Luxx Air Pro 2 Ionic Hair Dryer: Experience Salon-Quality Results at Home. Visit Kingpower Rangnam, Mahanakhon to Discover the Future of Hair Styling.
Luxx Store Presents Luxx Air Pro 2 Autowrap Hair Styling Tools 5in1: Redefining Haircare and Uplifting Women.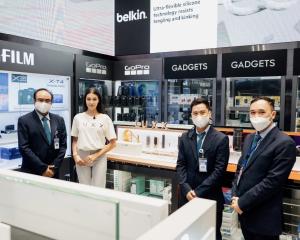 Luxx Store Unveils Its Game-changing Haircare and Beauty Solutions.
Luxx Store Reveals Luxx Air Pro 2 Autowrap Hair Styling Tools 5in1: Revolutionizing Haircare and Empowering Women.
With the Luxx Air Pro 2 hair dryer 5in1, we're changing the game of hair styling for women. Letting them express their unique personalities with utmost confidence and pride is what drives us forward."
— CEO of Luxx.
BEVERLY HILLS, CALIFONIA, UNITED STATES, August 6, 2023/EINPresswire.com/ — Luxx Store, a leading beauty and haircare brand, is thrilled to announce the highly anticipated launch of its revolutionary product, the Luxx Air Pro 2 Ionic hair dryer, exclusively available at Kingpower Rangnam, Mahanakhon shopping mall. This groundbreaking haircare solution is set to transform beauty routines and introduce a new era of innovation for women, by women.
The Luxx Air Pro 2 Autowrap Hair Styling Tools 5in1 is a versatile and intelligent hair styling tool that boasts an extensive range of features, catering to all hair types and desired styles. Developed by an expert team of female stylists, this state-of-the-art device seamlessly combines advanced technology with a sleek design, enabling users to achieve salon-quality results in the comfort of their own homes.
"Our mission at Luxx Store is to empower women and redefine their beauty experiences," stated the CEO of Luxx. "With the Luxx Air Pro 2 best professional hair dryer 5in1, we aim to revolutionize the way women style their hair, allowing them to express their unique personalities with confidence."
Meticulously designed using premium materials, the Luxx Air Pro 2 Autowrap Hair Styling Tools 5in1 ensures durability and long-lasting performance. Its user-friendly interface and ergonomic design make it suitable for both hairstyling professionals and individuals seeking salon-worthy results.
Luxx Store invites everyone to visit their flagship store at Kingpower Rangnam, Mahanakhon, and discover the future of haircare and beauty. Stay up to date with the latest news and exciting announcements by following Luxx Store on social media and visiting their official website.
About Luxx Store:

Luxx believes in a world where beauty is accessible and effortless. They achieve this by combining innovative, sustainable technology with a deep dedication to curating and delivering what women want and need most. Their products seamlessly integrate into daily life, becoming a natural part of the routine.
Continuing their mission in 2021, Luxx made a splash in the global beauty market with the Luxx Air Pro hairstyling set, covering all essential needs. To celebrate, they released a limited edition version in an elegant pitch-black design, symbolizing female strength and confidence.
Beauty innovation, Luxx launched Liner Pro, an eyeliner suitable for beginners and professionals. It features Luxx's patented "Stress-Free Eyeliner" technology and prioritizes vegan, cruelty-free, and non-toxic ingredients. Building on the success of Liner Pro, Luxx introduced Lashcara Pro, a simplified approach to lash extensions.
Luxx is committed to uniting beauty with innovation and women's empowerment. This commitment led to the release of Luxx Air Pro 2, which achieved incredible success with over 1,000 units sold in less than an hour. Later that year, they unveiled the Luxx Air Pro 2 Secrecy Black and Amethyst editions, embodying female strength and confidence while empowering women and enhancing their ownership experience.
And last but not least, Luxx launched the New travel hair dryer Lite version, featuring compact and travel-friendly functionalities for added convenience.
Luxx Store
Luxx Store Co., LLC
+1 929-445-4146
email us here
Visit us on social media:
Facebook
Instagram
YouTube
TikTok


Originally published at https://www.einpresswire.com/article/647680170/revolutionizing-beauty-and-haircare-luxx-store-introduces-innovative-solutions-in-thailand
The post Revolutionizing Beauty and Haircare: Luxx Store Introduces Innovative Solutions in Thailand first appeared on Beauty Ring Magazine.
Beauty - Beauty Ring Magazine originally published at Beauty - Beauty Ring Magazine