Rachel Lazarou and Robert Brooks are named as 2023 National Creative Haircutter Finalists alongside Industry Luminaries | ©Lazarou Hair Duke Street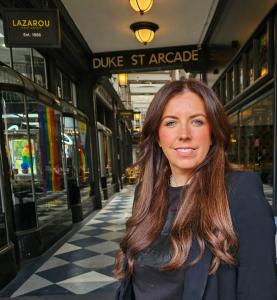 Rachel Lazarou is nominated as 2023 National Creative Haircutter Finalist | ©Lazarou Hair Duke Street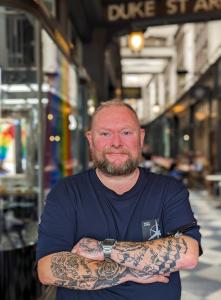 Robert Brooks is nominated as 2023 National Creative Haircutter Finalist | ©Lazarou Hair Duke Street
CARDIFF, WALES, July 26, 2023/EINPresswire.com/ — We are delighted to announce that Rachel Lazarou and Robert Brooks have been nominated as finalists in the 2023 National Creative Haircutter category, a distinguished honour within the renowned Global Creative Awards. Their nomination places them in the esteemed company of industry luminaries, including Stevan Dulay (POMOhair), Jacob Scully (Scully Scully), and Ben Brazzo (Jack & the Wolfe).
The Global Creative Awards is an internationally acclaimed competition that celebrates the most innovative and talented stylists within the creative hair industry. This esteemed event showcases the artistic excellence of hair stylists from around the world. The Global Creative Awards span across various categories, including new talent colourist of the year, creative colourist of the year, creative haircutter of the year, men's hairstylist of the year, avant garde stylist of the year, salon team of the year as well as editorial colourist of the year.
Participants in the Global Creative Awards undergo a rigorous selection process, and the judging panel comprises some of the most influential figures in the hair industry. The competition is not only a platform to recognise and celebrate outstanding talent but also an opportunity for participants to learn from their peers, exchange ideas, and elevate the art of hair cutting and styling.
The announcement of the bronze, silver, and gold finalists is scheduled to take place on Friday, the 4th of August in London. The ceremony promises to be a memorable occasion, with attendees from across the globe eagerly awaiting the declaration of the top winners in each category.
Rachel Lazarou and Robert Brooks' accomplishment as finalists in the National Creative Haircutter category is a testament to their decades of experience, unlimited creativity, and unwavering dedication to their craft. As hair stylists, they have consistently pushed the boundaries of hair cutting and styling, earning a well-deserved reputation for their innovative techniques and visionary approach.
"We are humbled and thrilled to be recognised among such talented peers in the industry," said Rachel Lazarou and Robert Brooks in a joint statement. "We believe that creativity knows no bounds, and it is our privilege to contribute to the ever-evolving world of hair cutting and styling."
As the finalists prepare for the awards ceremony, we celebrate their exceptional talent and dedication, which have not only elevated their careers but have also inspired countless aspiring hair stylists worldwide.
For more information about the Global Hair Creative Awards, please visit the official website at https://globalcreativeawards.com/en.
Head Office
Lazarou Hair Duke Street
[email protected]
Originally published at https://www.einpresswire.com/article/646321882/rachel-lazarou-and-robert-brooks-named-as-2023-national-creative-haircutter-finalists-alongside-industry-luminaries
The post Rachel Lazarou and Robert Brooks Named as 2023 National Creative Haircutter Finalists alongside Industry Luminaries first appeared on Beauty Ring Magazine.
Beauty - Beauty Ring Magazine originally published at Beauty - Beauty Ring Magazine