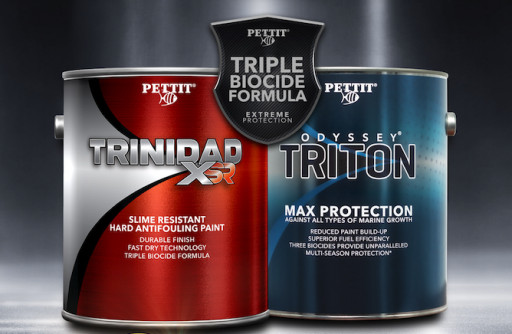 TRIPLE BIOCIDES LEADING THE WAY FOR SUPERYACHT ANTIFOULING.
HICKORY, N.C., January 24, 2023 (Newswire.com) - Innovation, Sustainability and Environmental Impact. These are the key features of Pettit's triple biocide products, Odyssey® Triton and Trinidad® XSR. These innovative products contain the proven biocides Cuprous Thiocyanate and ECONEA® (Tralopyril) to protect the bottom of any vessel against all types of hard fouling. To this is added Zinc Pyrithione, an extremely effective ingredient to protect against soft fouling organisms like algae, slime and hydroids. These three biocidal ingredients are incorporated into two different paint matrixes which yield a perfect balance of performance properties as demonstrated in field testing and in-field use over many years.
One of the keys to these products and any product in the marketplace is its sustainability. What are some indicators regarding sustainability of antifouling paints?
Products made from sustainable raw materials. Currently, Pettit® Odyssey Triton and Trinidad XSR contain approximately 10% sustainable raw materials by weight. That number is expected to grow in the future as we continue to explore new raw materials that have a smaller environmental footprint and a smaller effect on climate change.
Products that last longer so that more labor and materials are not required to repaint at more frequent intervals. Odyssey Triton and Trinidad XSR proven performance will last far beyond other similar products in the marketplace.
Products that save time and energy in their manufacture, transportation, application, and performance. Odyssey Triton and Trinidad XSR have a lower density than most antifouling paints on the market today, meaning less energy needed to ship the same amount of product as higher density antifouling paints. Odyssey Triton and Trinidad XSR easy, simple application means less time and effort needed to paint a vessel. Odyssey Triton and Trinidad XSR, as mentioned above, will outperform other antifouling paints on the market leading to huge savings in time and energy.
Another key feature is their minimal environmental impact. The product VOC (Volatile Organic Compound) content is below 330 g/L, making it compliant in every air district in the nation. Higher VOC products contribute to the formation of ozone.
Odyssey Triton multi-season ablative antifouling and Trinidad XSR multi-season hard antifouling not only provide excellent protection but are backed up by the industry's strongest warranty. The HD (Hull Defense 24 Month Limited Warranty) offers peace of mind to any boater in every harbor. This pairing makes Odyssey Triton and Trinidad XSR the most dependable and trusted antifouling paints for every boater and applicator in the industry.
Contact Information:
Tom Maellaro
Vice President of Marketing
[email protected]
9734619167
Original Source:
Pettit's Triple Biocide Antifouling Bottom Paints Lead the Way of Extremely Effective and Sustainable Antifouling Solutions
Sports News - USA SPORT NEWS originally published at Sports News - USA SPORT NEWS