Amidst the noise of labels and media hype, here's a nudge to prioritize research and education. By taking time to unearth the real facts, you can make thoughtful choices that align with your wellness goals, steering clear of superficial trends.
We believe in the power of your feedback! Our opinion box awaits your thoughts, ideas, and insights. Whether it's praise, suggestions, or questions, your input shapes our path forward. Join the conversation and be a part of the journey!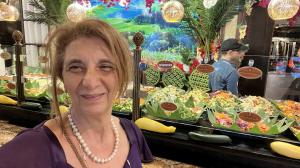 In the realm of health and wellness, Dr. Akoury takes a bold stand as your unyielding advocate. With unshakable dedication, she ensures that you're empowered with the honest truths, guiding you towards a path of lasting health, fueled by knowledge and supported by care.
Embodying Transformation and Harmony: The AWAREmed logo symbolizes our holistic approach to wellness, uniting mind, body, and spirit for optimal well-being. Join us on a transformative journey towards lasting health.
Equipping Individuals with the Tools to Navigate Dietary Claims and Optimize Health
How many times have I told you not to believe everything you hear? Seek truth for yourself."
— Isabel Allende
JOHNSON CITY, TENNESSEE, UNITED STATES, August 14, 2023/EINPresswire.com/ — Dr. Akoury Dispels Superfood Myths: A Closer Look at Overrated Choices
In an era where nutrition trends can capture headlines and create a buzz, renowned wellness authority Dr. Akoury, founder of AWAREmed Health and Wellness Resource Center, is stepping forward to unveil the truth behind some superfoods that may be overrated. With her holistic perspective, Dr. Akoury breaks down the myths and offers valuable insights for making informed dietary choices.
One such superfood in the spotlight is green tea, often celebrated for its potential benefits in weight loss and heart health. Dr. Akoury's perspective takes a comprehensive approach, delving into the potential drawbacks of excessive caffeine intake from green tea. While acknowledging its positives, she underscores the significance of moderation and balance to avoid unintended health consequences.
Almond milk, hailed as a dairy milk alternative, receives an enlightening examination from Dr. Akoury. She dispels the notion that almond milk is inherently superior to non-fat milk or soymilk. Dr. Akoury emphasizes that unless necessitated by specific dietary needs or preferences, almond milk offers no distinct advantage. She further highlights that almond milk is made from processed almonds that have lost most of their nutritional value, challenging the notion of its unequivocal benefits.
The conversation extends to dark chocolate, often lauded for its potential health perks. Dr. Akoury unveils a key truth: it's primarily the cocoa content that imparts benefits. She cautions against neglecting the sugars and additives present in dark chocolate, urging individuals to view it as an occasional indulgence rather than a staple in a balanced diet.
As these are only a few examples, the overarching message from Dr. Akoury is the importance of critical thinking and informed decision-making when it comes to nutrition. She cautions against succumbing to media hypes and titles, urging individuals to conduct their own research and become educated consumers.
Dr. Akoury's commitment to holistic well-being goes beyond trends, offering a balanced approach to health that considers both the scientific evidence and individual needs. Her guidance resonates as a beacon of truth in the sea of dietary information, empowering individuals to make choices that contribute to their overall vitality.
Media Contact:

Shannon Head

Social Media Manager

[email protected]
Dalal Akoury
AWAREmed Health and Wellness Resource Center
+1 843-957-1196
email us here
Visit us on social media:
Facebook
LinkedIn
Instagram
YouTube
TikTok
Superfoods – Learn How To Unlock Your Health With Dr. Akoury From AWAREmed


Originally published at https://www.einpresswire.com/article/649841300/navigating-nutritional-noise-dr-akoury-on-superfood-realities-and-well-informed-choices
The post Dr. Akoury on Superfood Realities and Well-Informed Choices first appeared on Beauty Ring Magazine.
Beauty - Beauty Ring Magazine originally published at Beauty - Beauty Ring Magazine